Features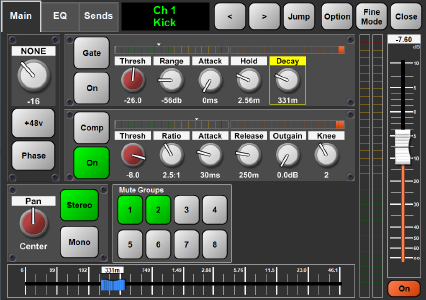 Fast, Intuitive Interface
Designed by an audio engineer, AirFader provides control of most channel-based parameters using a highly intuitive graphical interface. Screens are not cluttered, yet you can access the most common parameters in two taps or less.
AirFader's unique horizontal "Param Fader" provides linear control of any knob on the screen, plus "Fine Mode" makes all controls more sensitive to small adjustments.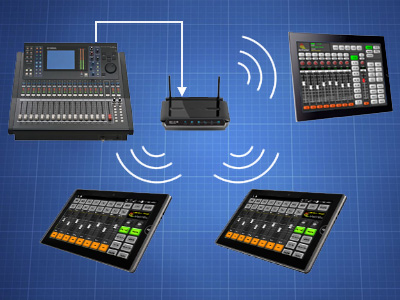 Multiple Device Support
AirFader is actually a powerful logic processor with its own efficient communications protocol. It ensures commands get routed between the console and other devices quickly and without looping. Once the Server is synced, it mirrors everything that happens in the console so that if a mobile device disconnects, it can re-sync in less than one second. So go ahead and put your device to sleep - it will pick up where you left off.
The Server status screen allows you to see all connected devices in real-time, and even block unauthorized users.
Per-User Permission Controls
Each remote user can be configured to have access to any combination of mixes including the main FOH mix. Access to per-channel parameters, the Graphic EQs, and Mix Master faders can also be restricted. One musician could be given access to change "Mix 6" only, with no ability to change the EQ or even their own Mix Master fader, while a worship leader could have access to change any monitor mix, but not the Front of House mix or aux-fed subwoofers.
With Version 3.5, you can even restrict access to channels in groups of 8. A venue manager can lock the console in a closet and give their room rental client a tablet with access to adjust the podium mic... and nothing else.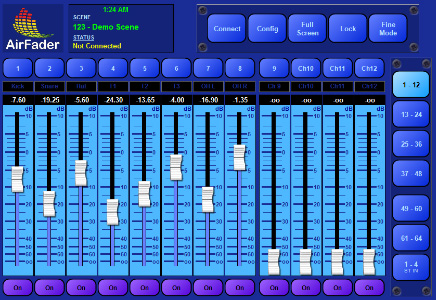 Custom Fader Layers and Colors
Since AirFader is designed for multiple users, every device has its own Custom Fader Layer that is separate from the console. You can even put channels and master faders side-by-side on the same layer for quick access.
The Windows version also has the ability to fully customize
colors
and the Fader Strip itself using any combination of 9 controls. Want a blue background with white faders, no CUE buttons, purple mute buttons, and 12 channels per page? No problem!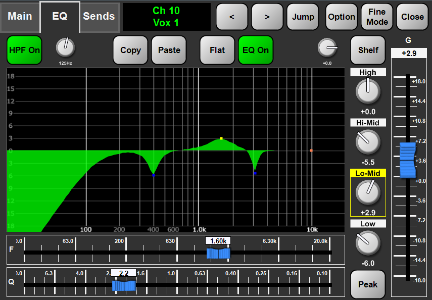 Accurate Displays
The Parametric EQ curves and level meters in AirFader aren't just pretty - they're pretty accurate. The EQ graphs are not visual approximations, they're modeled from the console's actual measured output. Level meters follow the same non-linear scale as the surface meters. Even the console's nonlinear fader curves have been carefully mapped so the virtual fader velocity matches the physical faders perfectly. It just feels natural.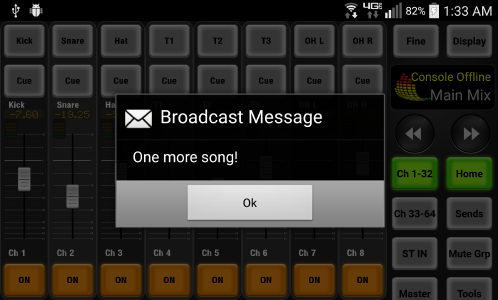 Built-In Messaging
AirFader has several ways to communicate between users. The Windows version has the ability to remotely flash the console lamp. The console operator can use one of the User Defined Keys to display an alert in Windows. These two tools work like an intercom flasher.
AirFader can also deliver short messages to one or all remote devices, allowing you to discreetly pass along song requests, weather warnings, sports scores, or just remind them of the end of their set. (Of course, you can also use a Mute Group Master to signal the end of their set.)